---
LIFTBARS
Put your Porsche on stands in minutes!
Lightweight, easy to use, look great and store in a corner!
928 early*
964, 993 (911)

928 late †
996, 997, 991 (911) †
986, 987, 981, 982~718 (Boxster) †
987C, 981C, 982C~718C (Cayman) †
981GT4, 982GT4~718GT4 (GT4) †

992 not currently available
968, Carrera 3.2 no longer available
† These bars will also fit other types with this mark
* 928-early (78-86.0) fit other types but taller ends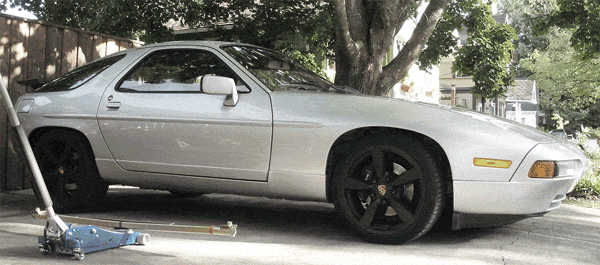 If jack height too high use 1.5" spacer under rear tire (2x6)

Use only 2 to 6 ton axle stands with pyramid style base*
Use on level, smooth, concrete; jack must roll in and out freely*
After reaching target height, lift opposite side again to settle stands
*NO ESCO flat-top stands
*Use steel plate larger than jack on uneven surfaces
---
---
Frequently Asked Questions:
Q: WHEN WILL THEY SHIP?
A: About four to six weeks after ordering for Black if not in stock
A: Hand made to order, much depends on the coating shops' work load
Q: Do I need a special low profile jack?
A: No. Simply place a 2x6 under the rear tire for extra space (drive on or lift at rear jack point)
A: Liftbars add about two inches to the jack saddle height not including the locating posts
Q: Can I use regular axle stands?
A: Yes. 2022-up bars fit ESCO axle stand saddles but any pyramid shaped axle stand will work
A: 3-ton or 6-ton stands depending on how high you want to go
Q: Can I use my ESCO rubber flap top stands?
A: No. By design, Liftbars rotate in the axle stand saddle a few degrees when the other side is lifted
A: ESCO axle stand posts are available separately (EG. Pelican Parts PEL-10497-P)
Q: Can I jack up my car on plastic floor tiles?
A: No. Floor must be smooth, clean, crack-free concrete. Floor jack must be able to roll freely in and out
A: Jack wheels must not sink into the flooring or be blocked by cracks or debris
Q: The GIF movie shows the bars bending?
A: Yes. To move the center of gravity closer to the car and weigh less, Liftbars bend, but only so far
A: A calibrated pre-bend, limit strap, and raised ends prevent touching the chassis
Q: Do I have to position the jack in the exact center?
A: No. Moving the jack slightly toward the engine may help equalize the distance between the bar and stands
A: The center plate makes the bar easier to grasp and pick up off the floor
---
---
New for 2023
Each bar weighs 15lbs (6.8kg), less than the weight of a jack stand
Liftbars can be used with ESCO axle type or standard pyramid axle stands
Available in Black gloss powder-coat or Bare u-paint for faster delivery
928-early, 964, 993 - Order Here!
---
---